Friends of Bones (FOB) is an organization that was formed in response to the fatal police shooting of our dear friend David "Bones" Hebert.
Our goal is to support those involved directly in the case, to raise awareness about police violence in our community, and to bring about policy change in police procedures, training, and equipment, while encouraging responsible city leadership.
If you would like to donate to Bones family you may do so
online at paypal to friendsofbones@gmail.com
All proceeds to benefit the family of David Paul Hebert.
Merchandise
"To Protect and Serve" Poster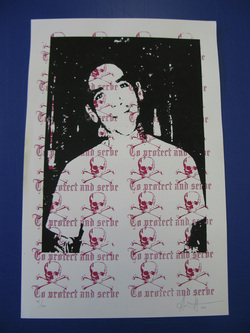 Limited edition print
signed, dated, numbered
12.5" x 19"
by Aaron Kent
www.aaronkent.org/

$20.00
Comes with a BONES chrome oval weatherproof sticker.
FREE Shipping / will be shipped with care in a tube.
Click Here to Purchase
---
Sugar Skull T-shirt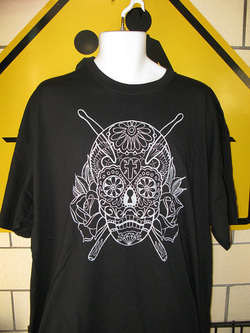 Sugar Skull design by Mike Dorsey, printed by Mudd

BLACK T-shirt w/ light gray ink



$25.00


Comes with extras including but not limited to a BONES stickers and hankies



FREE SHIPPING



Click to Purchase Your Size
---
"Two Shots Too Many" T-shirt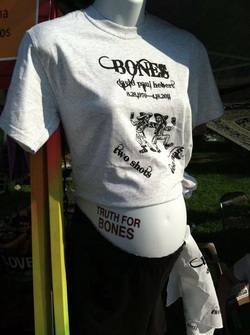 "Two Shots Too Many" Bones T-shirt



$20.00


Printed and sent from New Orleans was a fun, random mix of grey and white shirts.

Shipper will pull requested size, random color unless you order a medium Vneck which is Heather Grey in color.

Comes with a BONES chrome oval weatherproof sticker, button and hanky.

FREE SHIPPING
Click to Purchase Your Size
---
Dixie Trash & Captain Destiny& the Motor Medics CDs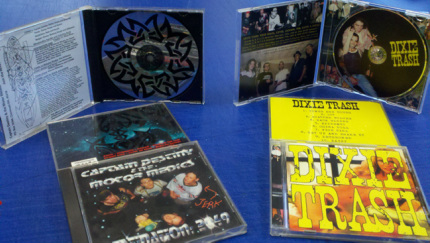 Dixie Trash on CD... excellent artwork inside cover and on disk
OR
Captain Destiny & the Motor Medics CD... awesomeness Comes with extras including but not limited to a BONES stickers and hankies
FREE Shipping

$17.00
Comes with extras including but not limited to a BONES stickers and hankies

FREE Shipping

Click Here to Purchase
---